Henrietta Gothe-Ellis – Creative Director
2Design Studio was founded in 2003 by Henrietta Gothe-Ellis (B.Des UNSW).
Henrietta graduated from The University of New South Wales College of Fine Arts in 2002 and holds a coveted Australian Good Design Award for Excellence (2004) for her signature furniture piece, Aura.
Drawing inspiration for her designs from the natural world, Henrietta creates objects of beauty that bring balance and harmony to any space. Her approach to design places an emphasis on proportion and restraint, often featuring geometric shapes, patterns and tactile finishes.
For the past decade, Henrietta has explored and developed her design skills in lighting, graphics, branding, products, interiors, photography, textiles and ceramics. Notable career highlights include collaborating with fashion icon Issey Miyake, an internationally acclaimed furniture range and extensive design work at Australia's leading lighting design company, Neoz Lighting. Henrietta sets a wonderful example of how one inspired product can help launch an entire design career.
In recent years, Henrietta has transitioned towards creative consultancy and enjoys helping others realise their unique visions through her coaching and mentoring.
To find out more email coaching@henrietta.com.au
Ben Leahy – Studio Manager
Ben brings a wealth of knowledge to 2Design Studio from his 12 years as director of Sydney based woodwork retailer, Australian Woodcraft. There he worked alongside some of Australia's finest woodworking artisans developing an extensive range of unique Australian products utilising sustainably sourced native and exotic timbers.
Since coming onboard in 2012 he has played a fundamental role in the development of The Aura Collection, working closely with local manufacturers ensuring a high level of quality workmanship is achieved. Ben has also represented 2Design Studio at numerous trade shows and exhibitions around Australia promoting Aura models to coincide with their release. Together, Ben and Henrietta share a passion for creating naturally inspired, intelligently designed pieces with timeless and global appeal.
email ben@2design.com.au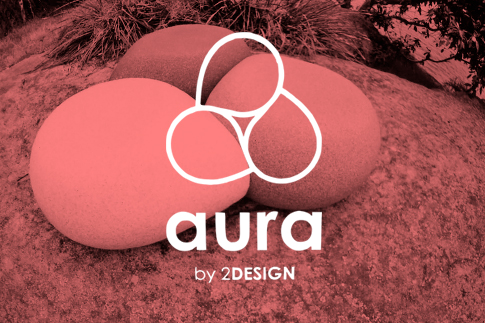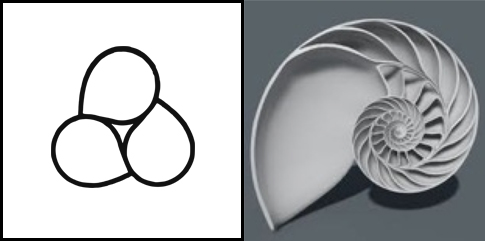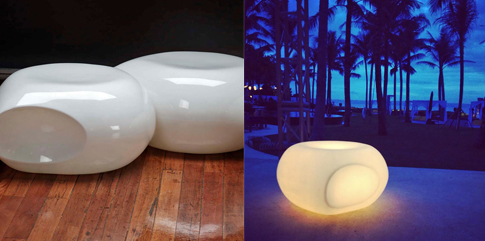 The Evolution of Aura

The very first Auras to be produced, Aura Original (2002), were individually handcrafted using fibreglass resin and finished in high gloss white. Inspired by the nautilus shell, this modular form features sacred geometric proportions found in nature, while the smooth, curved body closely emulates the natural beauty of a polished river pebble. These subtle links to nature help create a sense of familiarity with the user, while the modular design invites interaction. Each unique piece stands effortlessly alone, yet can also be coupled, linked, stacked or connected into a circle of infinite size.
Aura Original was chosen by Object Gallery for 'New Design 2003′ where it won its first award. With the subsequent interest shown in her design, Henrietta Gothe-Ellis teamed up with Roger Veitch to form 2DESIGN STUDIO. In 2004, Aura was awarded the prestigious Australian Design Award for Excellence. The same year marked the introduction of rotationally moulded Auras using UV stabilised Polyethylene. This change in production technique proved pivotal, allowing for the gradual expansion of the Aura range that now includes such variants as Aura Classic (2004), Aura Pebble (2004), Aura Illuminated (2004), Aura Mini (2010), Aura Upholstered (2013) and Aura Chameleon (2015).
The release of Aura Illuminated brought numerous local and international awards and catapulted 2DESIGN STUDIO into the international spotlight. This innovative furniture piece was the result of a collaboration between 2DESIGN STUDIO and renowned Australian lighting design company, Neoz Lighting. Featuring state-of-the-art Neoz Cordless Technology, Aura Illuminated is the seamless fusion of furniture, lighting and sculpture and regarded as a pioneer of this modern furniture movement.
If you would like to follow the evolution of The Aura Collection, please join our mailing list. We'll keep you informed of upcoming product releases, design news, exclusive deals and more. You can also follow us on Facebook and Instagram and we invite you to share with your colleagues and friends #theauracollection.
2DESIGN STUDIO proudly produces The Aura Collection in Sydney, Australia.
We are thankful to the many talented individuals that are involved in making this iconic furniture piece. We are especially grateful to the professional team at our design partner NEOZ Lighting.